Best Places to Work in Virginia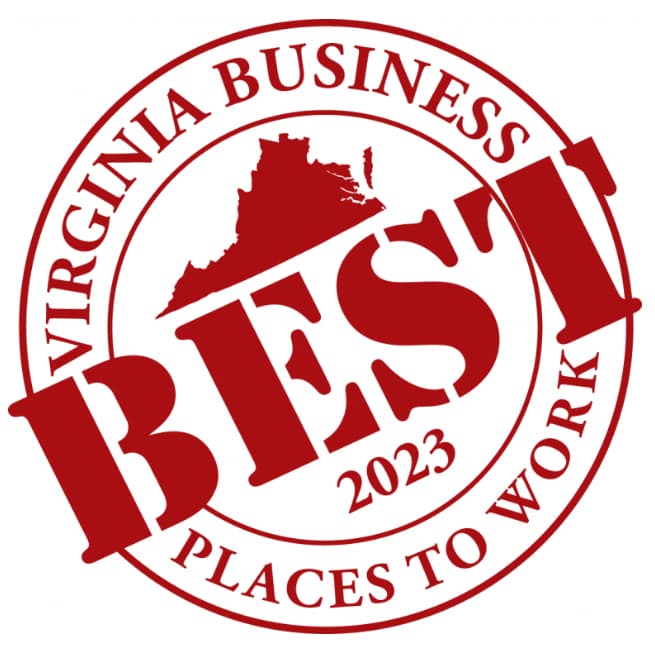 ICL has once again been awarded the distinction of Best Places to Work in Virginia for 2023. The annual list of the Best Places to Work in Virginia was created by Virginia Business and Best Companies Group.
ICL has been recognized annually since 2013.
This statewide survey and awards program is designed to identify, recognize and honor the best places of employment in Virginia, benefiting the state's economy, its workforce and businesses. The Best Places to Work in Virginia list is made up of 100 companies. Companies from across the state entered the two-part survey process to determine the Best Places to Work in Virginia. The first part consisted of evaluating each nominated company's workplace policies, practices, philosophy, systems and demographics. The second part consisted of an employee survey to measure the employee experience.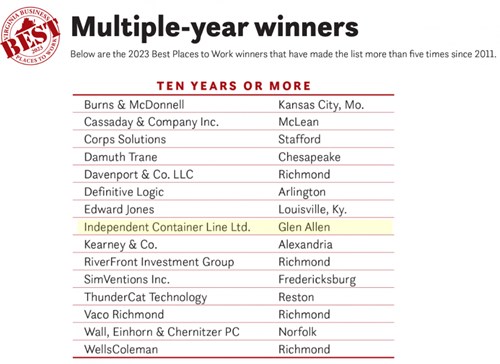 Top Work Places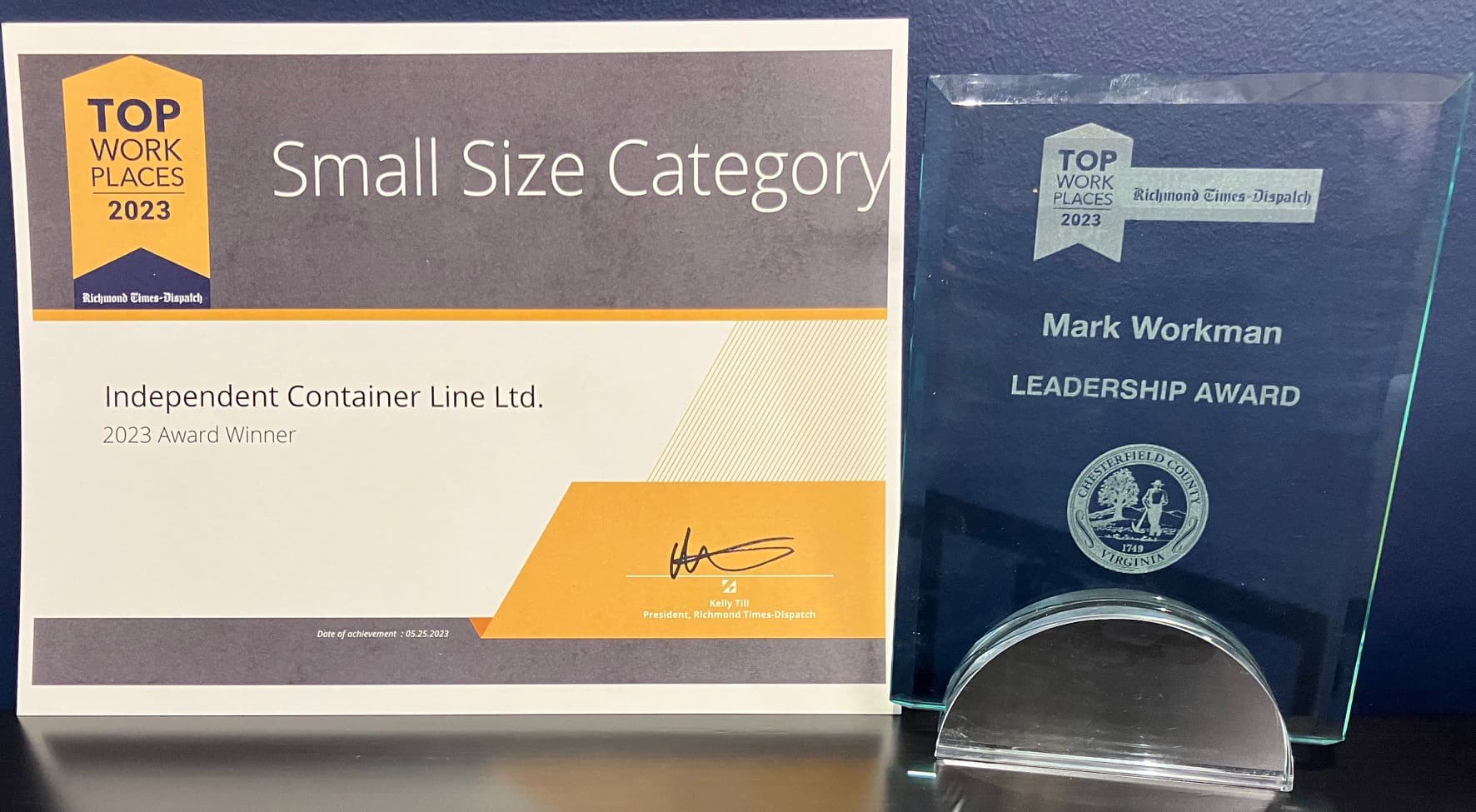 ICL has been named as one of the Top Work Places in the Richmond region for the 10th year in a row; since the program began.
For 2023, ICL ranked 5th in the Small Business Category. In addition, our US President, Mark Workman, received the distinguished Top Leadership Award.
"Mark Workman, president of Glen Allen-based Independent Container Line Ltd., a container shipping line, took home the top leadership award for the Small Companies category. "I feel that Mark has a really good way of looking at the 'bigger picture' and can visualize how something will impact the company or departments," an employee said."
The Richmond Times-Dispatch has recognized 87 Companies and Organizations in Richmond as Top Workplaces for 2022. These companies have been recognized based solely on surveys about the workplace completed by their employees. In addition to being recognized as a Top Workplace, ICL also received the "Communications" spotlight award for the second year in a row. The Communication award is based on "Employees feel well informed about important decisions at the company".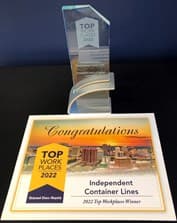 Ambassador Award / IABC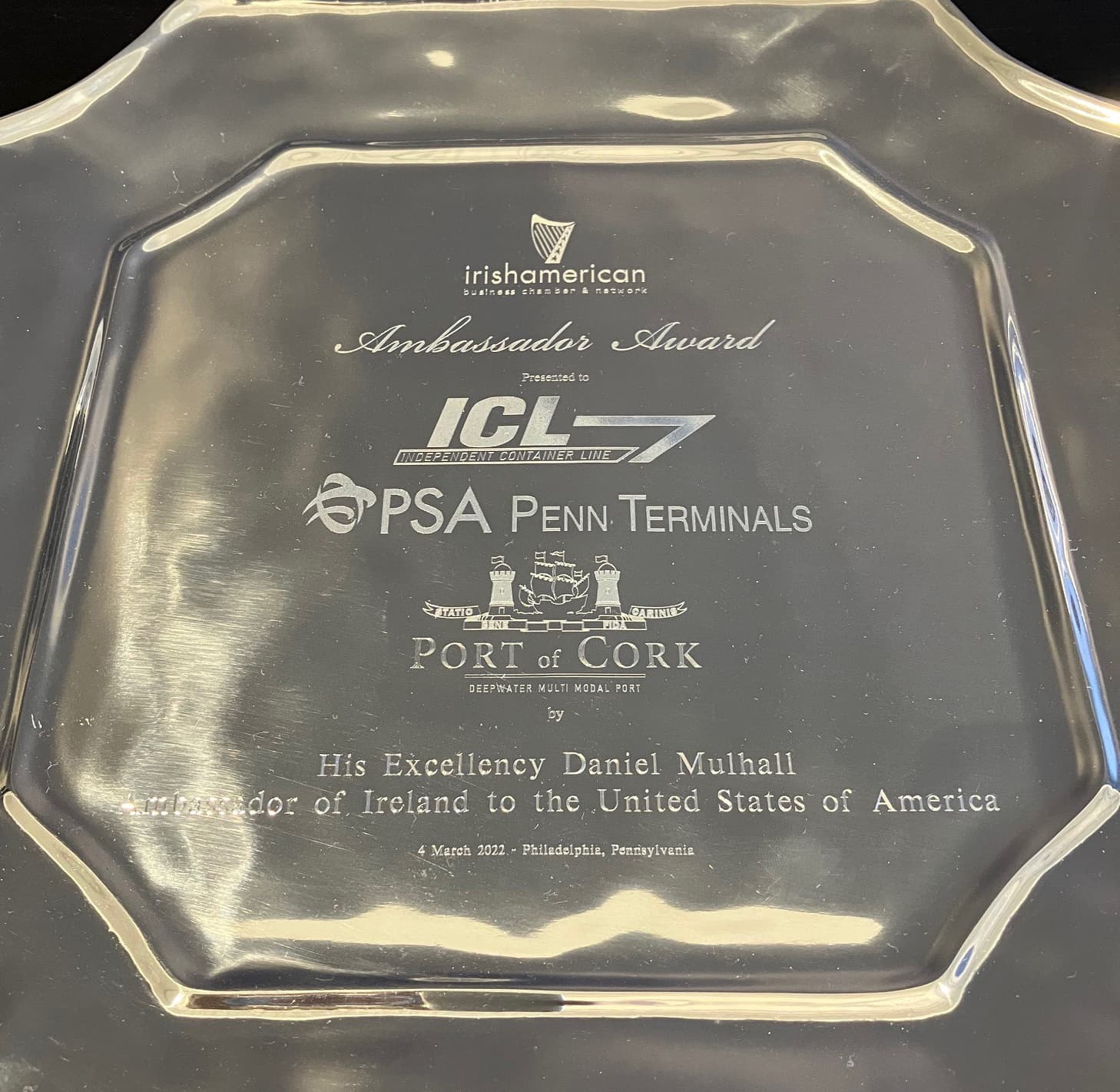 The Ambassador Award, named in honor of the Ambassador of Ireland to the United States, is presented annually to honor a company that has furthered the goals of the Irish American Business Chamber (IABC) by developing business between Ireland the United States. Daniel Mulhall is the current Ambassador of Ireland to the united States.
In June 2020, ICL launched a direct deep-sea route between Cork and Penn Terminals in Chester, PA, which is the only direct shipping route of Ireland connecting to the USA.
In March 2022, ICL was awarded the Ambassador Award.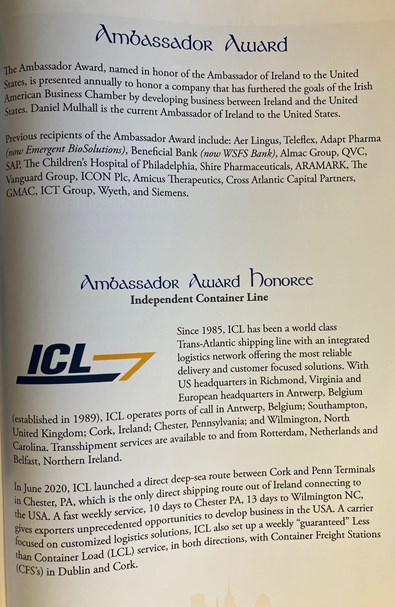 Supplier Excellence Award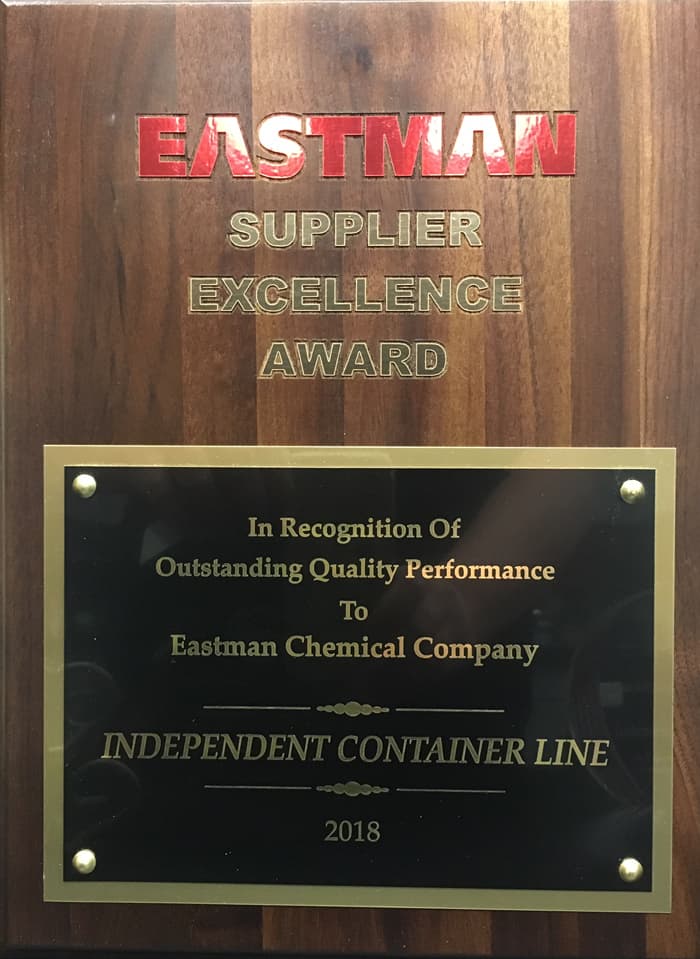 ICL earned the 'Supplier Excellence Award' from Eastman Chemical Company for 2019, making this our 12th year earning this distinction.
This award is given as part of the Eastman Supplier Excellence Program (ESEP) and recognizes consistent performance in supplying high quality service and working on Eastman's behalf to improve efficiency and their competitiveness in the market.
This award is based on supplying 'outstanding quality performance' to Eastman Chemical Company. The partnership includes adhering to Eastman's expectations for delivery reliability, security and safety requirements, which is reported on a monthly basis.
ICL was measured at 100% of the criteria outlined in their program each year.
Lloyd's List Global Award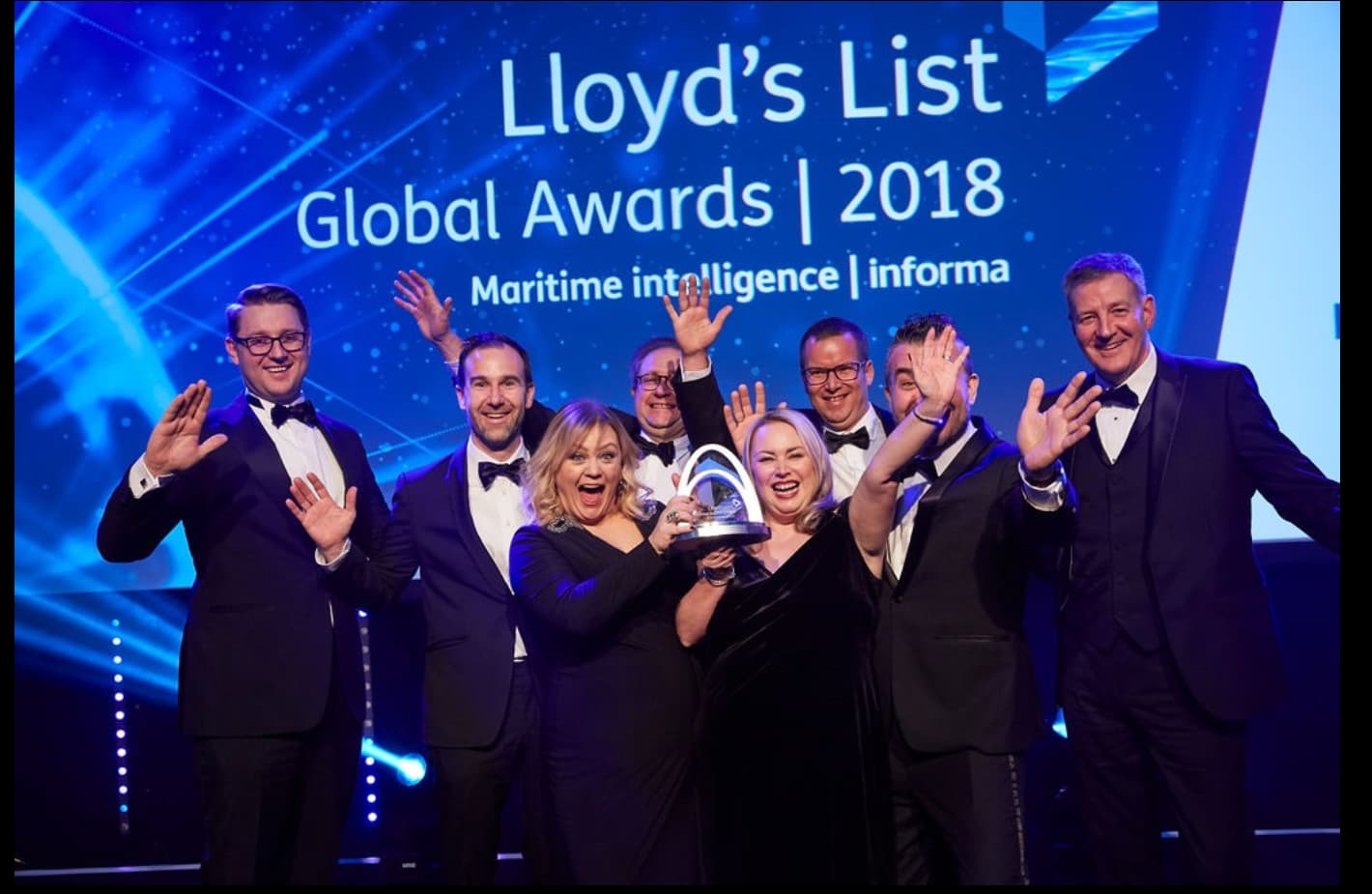 Independent Container Line was recognized by Maritime intelligence at the Lloyd's List Global Awards ceremony, as the "Specialist Containership Operator of the Year" for 2018. We are very excited to receive this recognition.

"We'd like to congratulate all our winners and finalists at the Global Awards 2018.
Once a year the most innovative and dynamic maritime companies in the world gather at the Lloyd's List Global Awards to celebrate excellence, whilst shaping the future of global shipping." excerpt from the Maritime intelligence website
Active RVA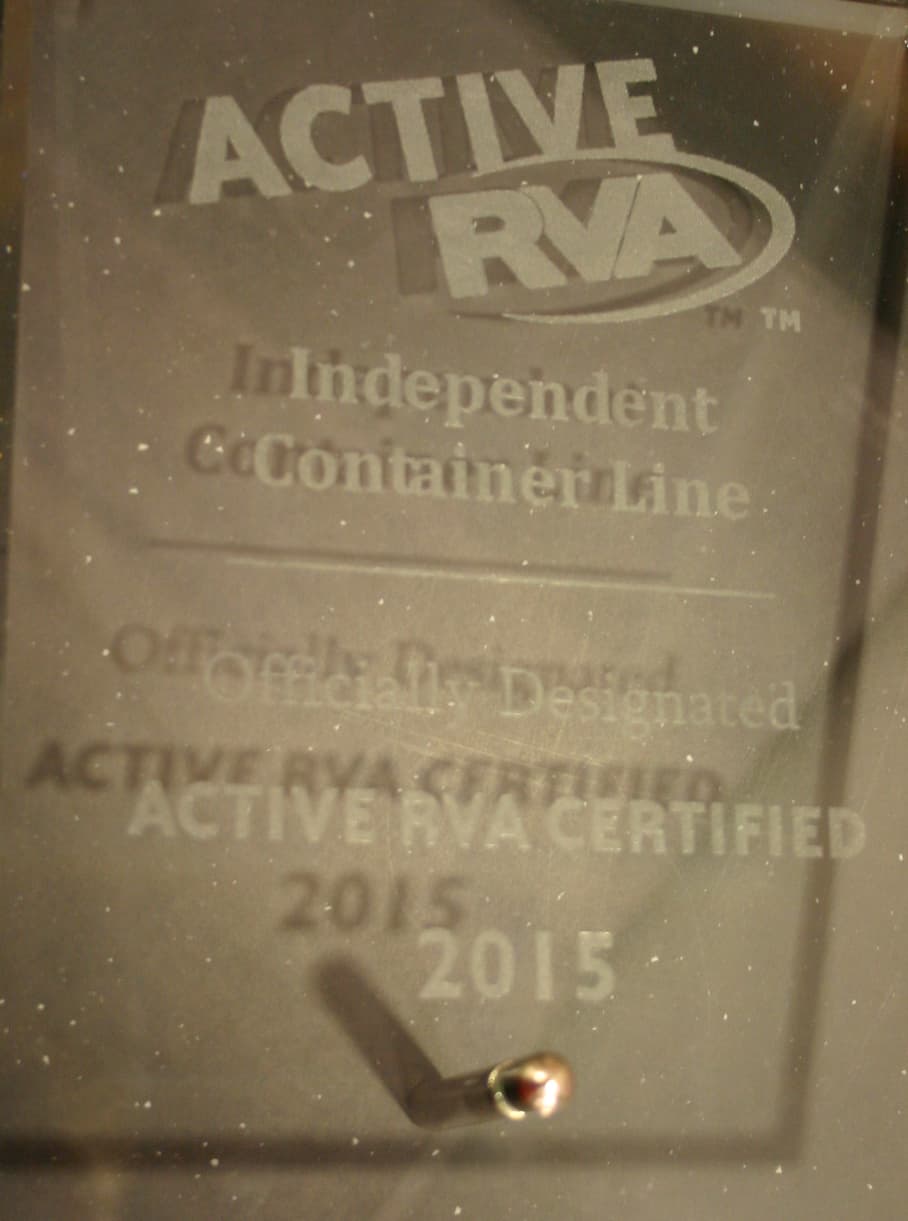 ICL has been recognized for four consecutive years (2016-2013) for our commitment to improving the health of our employees through various activities including promoting physical exercise, health screenings, lunch and learn sessions on healthy eating and exercise, and awareness of illnesses related to an unhealthy lifestyle.
"To build on the momentum of motivating individuals to adopt a healthier and more active lifestyle, Sports Backers launched Active RVA, a region-wide initiative to motivate area residents, businesses and local governments to make physical activity a personal and regional priority. With your help, we can make this region a more attractive and vibrant place to live where safe opportunities to walk, run, bike, swim, or workout abound and where access to these activities are available to all-regardless of age or income level." (excerpt from the Sports Backers website)
Regional Carrier of the Year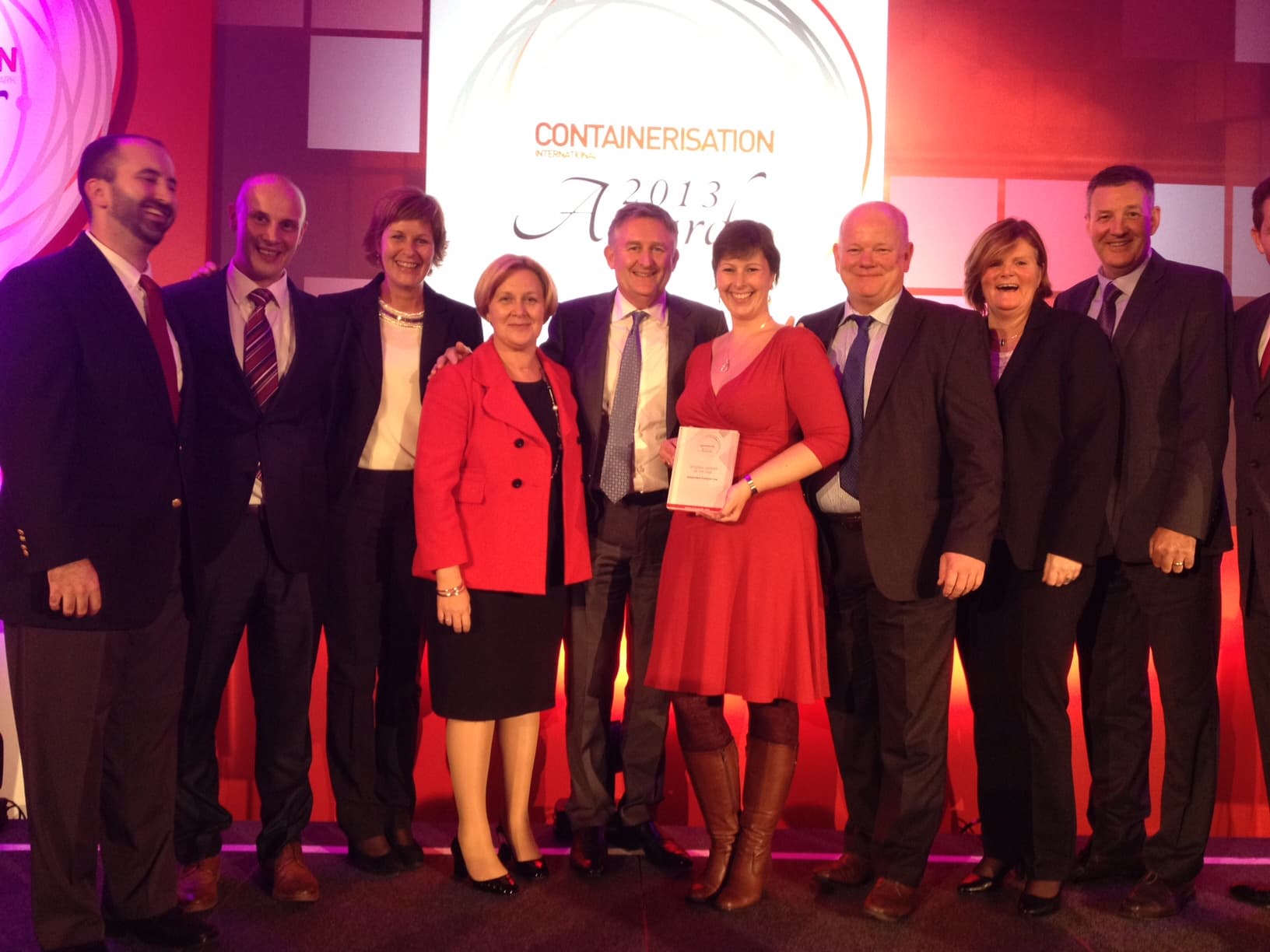 ICL was named Regional Carrier of the Year for 2013 by Containerisation International. "The Containerisation International Awards recognize those companies and individuals that, over the past year, have made an outstanding contribution to the container liner shipping and logistics industry, either through being innovative, proactive and pioneering."
Lloyd's List comments "Regional ocean carrier of the year went to Independent Container Line, which has proved that a small, customer-focused operator can compete with the global heavyweights."